Accessibility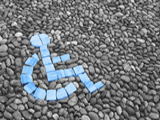 If a product gives access to many users and allows them to use it, this product is considered as accessible. We evaluate and advise you on your way to a site that corresponds with the guidelines of the Web Content Accessibility Guidelines 2.0.
Why should my site be accessible?
In September 2001 the EU introduced the W3C / WAI-Guidelines for accessible Websites Since December 2008, these are released in their latest version, the Web Content Accessibility Guidelines (WCAG) 2.0.
Disabled people should be taken especially into account and in general, nobody should be excluded from information due to technical limitations.
Is my site "accessible"?
The individual points of the Web Content Accessibility Guidelines 2.0 to be tested are divided into 14 groups and have three different priorities (A, AA, AAA). A Conformity Level A means that the site is at a minimum level of Accessibility. To reach this level, all requirements of priority A have to be achieved.
Website Evaluation
We evaluate the conformity of your site with the guidelines of the WAI and support you to bring up your site to the guidelines of the Web Content Accessibility Guidelines 2.0.
On what level of conformity is your site?
How can each of the three levels of conformity be achieved?
How does your site have to be improved specifically in order to meet these guidelines?
Using concrete HTML-examples: How do these realizations have to look like?
E.g. we examine the homepage, a representative set of subpages and all special subpages, such as forms, software systems and tools. As prescribed in the guidelines, tests using alternative browsers and screen readers will be conducted.
Results of our work
You will receive a detailed report concerning your current level of conformity, concrete recommendations and tips on how the site must be arranged to achieve the desired level of conformity and HTML examples for implementation.
Accessible Word- and PDF Documents
We make your documents accessible in conformity with PDF/UA Standard. We also can prepare your Word-Documents for future conversion to accessible PDF documents. Just email your files to office[at]usability.at, and we will respond with a comprehensive quotation within one working day.