Use Cases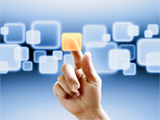 Use Cases define the interaction of users with a system. Every single sequence represents a use case. Use Cases are the basis for a successful user interface design.
In the analysis phase of the development process, it is necessary to describe all the interaction processes and to evaluate them in regard to their priority. We support you to comprehend Use Cases.
Advantages of Use Cases
Use Cases allow all persons involved into a project to speak about concrete processes. Use Cases permit a more efficient communication. Use Cases can be regarded as a bridge between software developers and end users.
Use Cases are the base for which processes have to be treated with more priority. It can answer the question: Which Use Cases are especially important for the success of the product?
Use Cases allow to describe the functional requirements of a system in a comprehensive and understandable way.
Use Case descriptions are not static, they experience a development within a project.
Use Cases provide a clear basis for the User Interface Design.
Conditions for the creation of Use Cases are, that there is as much information as possible available about the end users. Therefore, we often preface Use Cases interviews at the workplace (of the users) or Group Discussions.
Our services
all relevant Use Cases are captured
creation of Use Case charts
prioritisation of Use Cases
description of Use Cases in with the client specified templates
identification and description of users as Personas