Application Examples
Software
Eye tracking shows, which design leads to an optimal navigation. Eye tracking enables an objective and valid comparison of different designs.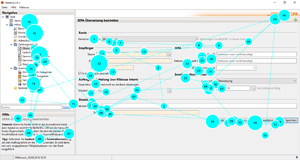 Webdesign
Eye tracking points out with which desgin option the user gets along with best. The number of fixations shows, if the user can decide fast. The analysis of hot spots or areas of interest provide information about the order of perceived topics, which are important for unterstanding.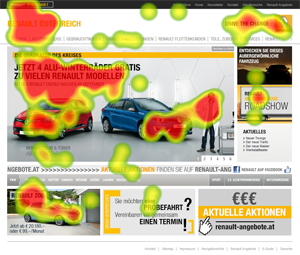 Online advertisements
Eyetracking is one of the most valid methods to evaluate the efficiency of online advertisements.
Eyetracking can evaluate:
What kind of advertising format is ideal for each web portal. For instance what adverts get viewed most: content ads, layer ads or skyscraper ads?
Eyetracking helps you to use your advertisement budget efficiently.
Before the advertisement gets published, the efficiency can be pretested.
Image effect of your subject
Do "banner-blindness" effects occur? hat means, do the recipients overlook your banner?
Optimisation of the design of your banner
Newsletter and direct mails
Eyetracking helps to answer the following questions:
Which informations must be gathered by the recipients?
How do the texts and pictures need to be designed to achieve a response?
Which text to picture relation leads to an optimal result?
What impact do different pictures or textformats have on recipients?
How do texts need to be pointed out, so that the recipients react?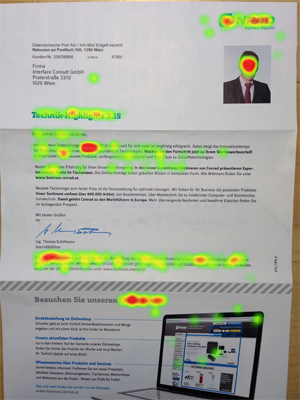 Print advertising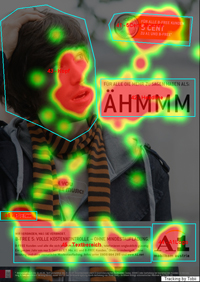 Eye tracking delivers information to the advertising effect, the awareness, the understanding and the readability.
We evaluate:
flyer
image brochures
print ads
catalogues
posters
magazines
editorial content of print media
manuals
Commercials for web and TV
The impact of commercials on viewers can be measured with eye tracking. It can be shown:
To which elements costumers pay attention to?
Brand recognition
Understanding of the message
Do costumers get distracted from the message/brand by spot elements (Vampire effect)?
Analysis of the different target groups
Customer experience tests of museums, sights and zoos
We test and optimise the customer experience of museums, exhibitions and event locations.
More information about this topic...
Packaging tests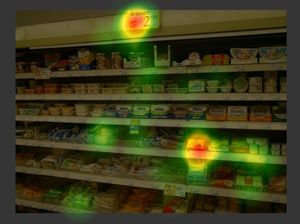 We can analyse with eye tracking:
Visibility of a product
Searchability in the shelfs
Brandrecognition
Value expression
Uniqueness
Image effect
Choice
Influence of a changed product line
Our Customers