Prototyping LoFi & HiFi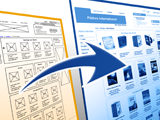 Prototyping is an essential part of the evolution of each high-quality product. Prototypes represent the transition of the idea into the finished product.
We create for you a GUI prototype of your application. By empirical user testing the prototype will be tested in regard to its quality and accuracy. Therefore, prototypes help to reduce the development time of a product and help to detect and eliminate possible early design errors.
Prototyping helps to answer the following questions: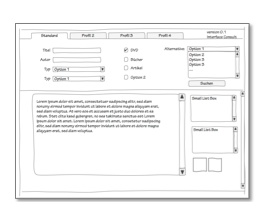 how will users and stake­holders react on the design?
are the users going to understand the concept ideas?
will the design work correctly? Are the users able to reach their goals?
How can we support you in prototyping?
we design prototypes for your application.
we test your or our designed prototypes and develop high quality end - products.
In early phases of the project, we operate with low-fidelity prototypes which are quick to realize. Depending on the degree of detailing it is realized as
scribbles
mockups - blueprints - wireframes
paper prototypes
In later phases, we work with interactive, high-fidelity prototypes, which
are created with special prototyping tools or development environments
are realized as functional or partially functional prototypes.
Our Customers