Live Oberservation and Video Recording
The eye movements can be recorded from any media, like web, software, slideshows or movies. With our new system the data can be displayed on any output device (monitor, broadband-tv or beamer).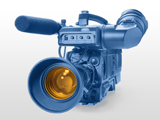 You are invited, to observe live, how your target person uses the product. Our usability lab offers the possibility to look over the shoulder of your target person, while they interact with your software/website.
In our observation room the test can be viewed through a one way mirror, sound and videolink. Additionally the eye movements of the test person can be viewed live over a monitor.
Eye tracking demo video
Our Customers